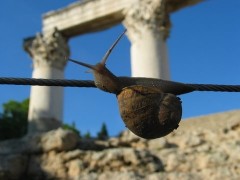 I was in Greece for eight days last month.  Lately Greece is a fitting place to think about employment concerns.  Knowing
several political journalists, including one in Athens, I gleaned some big-picture economic insights.  But the person whose story most resonated with me was that of a young waitress in a neighborhood restaurant in the fabric district.  We liked each other and had two lengthy conversations.  (Yes, we went back, for the food and for her.)
Our new friend is twenty-five years old with two advanced degrees in the biological sciences.  She was happy to be able to take orders in a restaurant with a busy delivery business.  She has little hope for a job in her field in Greece, and was talking about emigrating.  There are fields, like most of the sciences, where rescuing one's own professional life is problematic.

Law is a field where self-help is not only possible; it can be planned for – like having a fire escape.  Unless you are not allowed to bring in work where you are, start small.  Find out what legal services people you know need.  Try to help them get it done.  If you cannot do the needed work yourself, you need not learn an entirely new field of law.  Introduce the people you know to other lawyers who can do the work.  The lawyer you gave work to may return the favor and the client you helped will remember you are the one who made the connection.  It starts slow, but it gets you where you want to go.