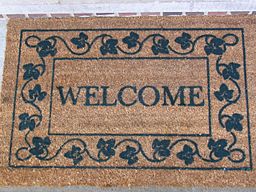 You want and need to be contacted by potential clients and referral sources. Don't make the walk to your door a difficult one. For reasons I have never understood, many lawyers neglect to do four simple things to help business get to them.
If you are neglecting any of the following, change your ways. Here are four tools I regularly see overlooked.
1. Have a web site. Even solo practioners need web presence. Although it is best to have an attractive and descriptive site, even basic information is better than being absent from the world's most consulted business resource. Sites can be created inexpensively, and even a bare-bones site will describe what you do, what you have done and give your contact information. If you have people willing to recommend you on your site or have written work to which you can link, even better.

2. Attach a v-card to your web site. Put it on your bio or contact page. That is where people will look for it. I connect with lawyers all day long. Some people who reach out to me are first-time contacts. When somebody I do not know leaves me a message, I may want to respond in a manner different from the one they used. If so, I go to their site. It takes extra time to create, or write contact information. It is more likely I will respond quickly when I can have a particular lawyer's contact information in a few key strokes. A v-card also makes it easy for someone to add you to their contact list, something you should encourage.
3. Unless you want or need to hide from work on evenings and weekends, put your cell phone number on your web site and business cards. A few people may abuse it, but most will not. I know many stories of someone getting business because they were the first person who a client in need could reach, and the reason they were reached was that their cell phone number was accessible.
4. If you have not already done so, join LinkedIn, and connect with your clients and professional friends, and join alumni and other appropriate LinkedIn groups. LinkedIn is especially useful for solo and small firm lawyers. Lawyers without much support are busy working at their desks, and cannot work events or conferences as much as they might want. Spend ten minutes a day connecting through LinkedIn. Catch up with a professional friend with whom you have not recently spoken or answer questions posed in group posts. Do something. It gets you known. As with most of the rest of the world, the way to succeed is to give. Take a few minutes each day to see who among your direct connections and in your groups you can help.