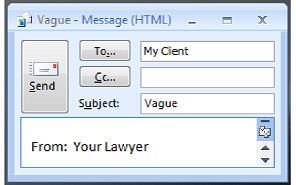 Over the many years I have worked with lawyers on individual rainmaking plans, I have seen some simple errors made with disturbing regularity.  In an effort to increase all my reader's business by at least eliminating these easily avoided mistakes, I suggest the following.
1.  Leave your full name, not only your first name or just your phone number, on every outgoing voice mail message at which you may receive business calls.  Clients and potential clients seldom have your number memorized.  Making people do extra work to be sure they have the right number is not appreciated.  Worse yet, if someone is unsure whether he or she has reached the right number, chances of a hang up increase.

2.  More telephone manners: if your voice mail has a time limit your message should say so; with rare exception you or an assistant should return calls within three hours; if you are rather unavailable for some period, your voice mail should suggest an alternative or worst case, say when you will become more available.
3.  Do not assume your clients or potential clients like what you like.  I know of vegetarians taken to great steak restaurants and teetotalers taken to tequila bars.  My favorite was when someone who would rather have been at a football game was invited to the ballet.  Really.
4.  Put an informative subject line on all e-mails.  Your clients are as busy as you are.  Don't make them guess at the subject matter of your e-mail.  Give large hints about which e-mails are urgent and which ones can wait to be opened.
Avoid subject line vagueness.  I have been working with a lawyer looking for both a new law firm and an increase in business.  This person sends me many valuable e-mails.  It is a challenge, however, to retrieve any particular e-mail because most of them have unhelpful titles, like the code name of an attachment.
5.  Unless you are certain a meeting is casual, dress up for business meetings.  Many people don't care, but some do, and always will.  Lawyers lose jobs and clients by conveying what is perceived as a lack of respect via their clothing.
6.  Always reach first for your client's or prospective client's lunch tab.  It is rare that lunch costs as much as a half hour of your time.  Clients care if you are gracious and seem to actually want to spend time with them.