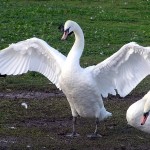 At almost any stage of your career, with focus and effort, you can alter your practice area, or add an additional specialty to your practice. There are many reasons to make such a shift. You may be bored, or need more work. Sometimes you got it wrong at the start. You may be frustrated or feeling boxed-in. Whatever the reason, lawyers at various levels of seniority can and frequently should make moderate or seismic shifts in their legal practice. Here are a few tips about how to spread your wings:
1. Think about your current clients. What legal work do they now have done by others? Could you do that work? Could you learn to do that work? Is there someone you know, at your firm or elsewhere, who would help you do that work, at least when you start? Do you know if your clients prefer your relationship and communication skills to those of the lawyer now doing their other work? Once you assess the answers to these questions, speak with the client. State what you can do that you are not now doing for the client. Then ask if you can do more. (See, http://victorls.com/i-didnt-know-you-did-that/#more-453.)
2. What else do you do well? Are you a litigator who studied architecture? You might want to consider involvement with construction defects litigation, or construction contract arbitration. Are you a transactional lawyer with a background in journalism who can write good narrative under deadline? Perhaps you want to participate in litigations. You may find yourself particularly skilled at presenting factual narratives.
3. Especially as a young lawyer, if you are unhappy with your legal specialty, cut your losses and run. I know a lawyer who has been practicing only two years and feels boxed-in doing litigation work. He comes from a business family, loves transactions, and has possible transactional clients. His bosses like and respect his work, but he is unexcited about his professional future. He is nervous about looking for a different type of work after gaining skills. Skills don't go to waste, and connections and enthusiasm make for clients. Grab that ring.
4. Good older lawyers know what they know. Their colleagues also know what those lawyers know. In-depth knowledge about a subject matter gives anyone a leg up with that issue in all legal contexts, including those that are not the person's strong suit.
I have seen a litigator who understood natural hog breeding because involvement with some prior litigation, draft a complex contract for the purchase of a free-range pig farm. Recently, a real estate lawyer I know handled mediation about disputed contract provisions because he was the one who best understood the complicated substance and history of the transaction. If either of those lawyers wants similar work in the future, and expresses that desire, there is a good chance they will be tapped again for work out of their usual area.
One of my favorite transitions to a largely new field of law was that of a litigator friend of mine. He was a litigator with a national firm who had personally represented a major financial institution for years. His client was in occasional trouble. He had held the hands of corporate executives when financial settlements concerning securities violations were paid with the company's money. After years of that, the same executives found themselves facing possible prison time. His words were literally, "It's amazing how much attention clients who used to be reading newspapers during negotiations pay to talks when they are facing prison." After he kept several executives out of prison, he was offered the General Counsel position of the company. He knew the subject matter and his clients trusted him with what mattered most to them.