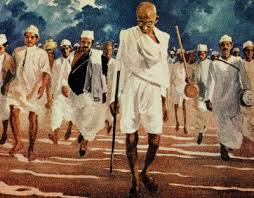 I typically blog once or twice a month, and, over the last few years, have developed an appreciative following. People expect my blogs, and they have been useful in steadily building my business. Nonetheless, even with encouraging readers and a light blog schedule, I lapsed in my production.
What happened? In preparing for an overseas vacation, I was absorbed with clients. Then I went on vacation and shortly after I returned there were two nearly day-long power outages in my office, promptly followed by an illness of a few days. When I did return to a full work schedule, I felt like my day-to-day work, the work that pays promptly, took precedence. I fell into the trap I warn my clients about – not seeing the big forest picture for the seemingly important trees in the foreground.
Ironically, it was reflections on my trip, to India, that helped me again focus on the long-term, and return to activities like blogging that don't usually have an immediate, short-term reward. Any tourist in India who pays attention to its historical context (and this is neither an abstruse nor subtle matter) must be impressed by the seemingly endless period during which much of the vast land area of modern India, Pakistan and Bangladesh was controlled by one or more distant powers, in a continuous period beginning with the Mughals in the early 16th century, through the collapse of the British Raj in the middle of the 20th century. And during most of that period, although there was much cooperation with the foreign rulers, the idea of Indian self-determination was never entirely abandoned. Upon my return to Los Angeles, as I absorbed this remarkable accomplishment by Indian culture, I thought about what resilience and determination it took for generations to live through those centuries and not lose sight of their own separate identity and national vision.
As a late, and culminating, example, take the remarkable vision of Gandhi. His march to the sea (the so-called "Salt March", http://en.wikipedia.org/wiki/Salt_March and http://www.history.com/topics/salt-march) did not immediately alter much of anything about the British rule of India. It was, however, an important action, one of a series during Gandhi's campaign for Indian independence, all of which served to dramatically illustrate for Indians the reality of British rule and to dramatically illustrate for the British the inevitability of losing that rule to a determined and overwhelmingly popular struggle. Even the Salt March, dramatic and useful as it was, did not result in Indian independence — that took another seventeen years.
Okay, I understand that you are not trying to overturn an empire. But you are engaged in a long-term struggle of establishing and strengthening your presence in the business community and your career. In order to do that, you need to have a plan that includes many elements for which there is not an immediate reward but that over time should bring good results. The alternative is that you spend all your time reacting to the needs of the moment, and not paying attention to the big picture — to where you want your business and your career to actually be in the long run.
Successful rainmakers should usually have a conscious schedule of activities to which they adhere. Being actively out in the world attracts clients. Typical rainmaking activities include participating in conferences and seminars, taking people to meals and coffees, attending parties (even those you may not enjoy), going the extra mile to personally help clients and potential clients, and, yes, blogging and writing articles. However, sometimes routines slip. We have plans that get delayed or go wrong, and sometimes we just get discouraged. It is what you do when things slip that separates the ultimately successful professionals from the defeated ones. Pick yourself up, and if you miss a month, get the next one.
If you have let some of this slip, I encourage you to make plans for at least one good rainmaking action you have not done lately. Do the footwork as soon and as well as you can.